Symbols
A key to Melzack's Imagery
Looking at contemporary visual art often requires an understanding of the meaning of the images created in a composition. The knowledge of what my visual language represents, will I hope, create a deeper understanding and appreciation of the visual context and the story being told. Of course as with any work of art, your own experience with the images will evoke understandings based on your own lived experience and your interpretation may bring a broader context to the artwork. Explore, learn and enjoy!

LEAFLESS TREE
Represents potential; the nature of our potential; connectedness to internal as well as external nature.

CIRCLE
Represents without beginning, without end, spiritual essence, G-d watching over creation once G-d completes creation. It becomes our responsibility to maintain it.

PYRAMID TRIANGLE
Finger toward G-d, top being. The apex where all things balance, searching for balance in our lives.

POLE & CRESCENT
Represents a figure that reaches toward the spiritual plane.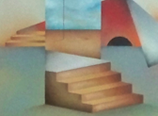 STAIRCASE/THRESHOLD
Represents a path toward opportunity – not knowing what awaits through the threshold; risk taking, danger, adventure, insecurity.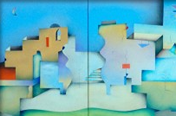 TWO CANVASES LINKED TOGETHER
Represents unity, oneness, inseparability.

CANOPY OVER AN UNDERLYING SPACE
Represents existence of a parallel plane, the unknown, the mysterious, enigma.

HANGING OBJECTS FROM WIRES
Represents an ordered universe, predictability ,sense of order, peace of mind.

CRESCENT MOON
Represents faith. Even though we see only a portion of the moon's surface we know that the surface is a complete sphere.

DISK ON POLE
Represents circle trying to maintain balance, the world out of balance.